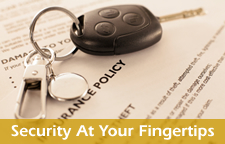 How To Buy Online?
Without complete and accurate information, online shopping is nothing more than getting estimates.

If you want an accurate quote online, you need Vehicle Identification Numbers (VINs) for all vehicles, auto loan or Lease information, drivers license numbers for all drivers, Social Security numbers for all drivers, date of birth for all drivers, current car information, driving experience for all drivers, the coverage you are looking for, starting date of policy and lastly the payment method.

Your current auto insurance policy probably has most of the information that you need on it. Your vehicle registration card or your current loan/lease papers are another good place to find a lot of this information.


Your Vehicle Identification Number (VIN)
You can find your VIN on your vehicle registration card and on many of your current car insurance documents. You can also typically find your VIN on the driver's side dashboard inside your car.


Loan or Lease Information
Lenders and leasing agents generally have minimum auto insurance requirements. We need their contact information so we can notify them that you've met their car insurance requirements.


Driver's License Number
We need drivers license numbers for everyone you want listed on your auto insurance policy.


Social Security Number
Your Social Security number helps us verify the information you provide on your auto insurance policy application. Through our encryption technology and because of our strict corporate privacy policy, your Social Security number and similar personal information are sent, stored securely, and kept for our insurance records only.


Date of Birth
We need the date of birth for all drivers on the policy.


Current Car Insurance Information
You'll be able to find your current auto insurance policy number and expiration date, along with other important insurance information, on your current auto insurance policy's declarations page or your proof of insurance card.


Coverage
You need to specify the amount of coverage you are looking to purchase. You can choose from the following:

Deductibles
The deductible is the portion of a covered loss that is your responsibility. The deductible, when applicable, applies to each covered loss. Although deductibles vary by state, they are typically available in amounts such as $100, $250, $500, or $1000.

For example, if you had a $500 deductible, you would need to pay $500 of the covered loss.

Generally speaking, higher deductibles lower your premium, but increase the amount you must pay out of your own pocket if a loss occurs. Ask yourself how much you are willing to pay in order to save on premium.

Bodily Injury Liability and Limits
This coverage pays when an insured person is legally liable for bodily injury or death caused by your vehicle or your operation of most nonowned vehicles. This coverage also pays for your legal defense if you are sued. For example, 25/50/10 means $25,000 per person per accident for bodily injury/$50,000 total per accident for bodily injury/$10,000 property damage per accident.

Comprehensive
Pays for loss of or damage to a covered vehicle, except loss caused by collision or upset. Examples include loss caused by fire, wind, hail, flood, vandalism, theft or impact with an animal. A deductible may apply.

Uninsured Motorist
Available in some states, usually as an alternative to Collision Coverage. This coverage pays you for damage to the covered vehicle that has been sustained in an accident in which the owner or operator of a motor vehicle who is legally liable does not have insurance. In some states, it may also pay you for damage to personal property in the covered vehicle at the time of an accident. This coverage is not available in all states.

Collision
Pays for damage to a covered vehicle caused by collision with another object or by upset of the car. A deductible is required.

Medical Payments
Pays certain medical and funeral expenses resulting from a motor vehicle accident. This coverage protects anyone occupying your vehicle. It also covers you and relatives who reside in your household while in other vehicles or if struck as a pedestrian. These benefits are payable without regard to fault. This coverage may not be available in states that require Personal Injury Protection Benefits. Common Exclusions are similar to those for Bodily Injury Liability Coverage (see above).

Towing and Labor
Reimburses you up to the limit selected for emergency towing of your car.

Rental Car Reimbursement
Pays expenses to rent a car if you have a loss covered under Comprehensive Coverage or Collision Coverage. Pays up to the limit selected per day to the maximum indicated.


Policy Inception Date
You need to indicate and verify that policy begins coverage when your old policy expires. This will avoid lapse as well as duplicate coverage. In the event that there is no prior coverage, your policy will usually start 12:01 AM the next business day, unless you specifically ask for a different date.


Your Payment information
We accept credit cards from MasterCard, Visa, Discover and American Express and debit cards with a MasterCard or Visa logo. We also offer you the option of paying with check online and we will electronically reproduce the check. Your assigned agent will coordinate the rest of this simple online purchase and assist you throughout this easy process.